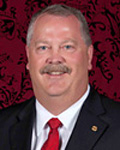 Steven E. Simmons
Vice President, Huitt-Zollars
agencies, toll road authorities, local agencies, design/builders and public/private partnerships. Simmons will also support Huitt-Zollars in expanding their services and client base. As TxDOT's Deputy Executive Director for the last ten years, Simmons was responsible for the Texas' highway, transit, toll, aviation and motor carrier programs. In that capacity, Simmons consistently developed innovative solutions to resolve challenges that faced the agency and its transportation partners. Prior to serving as Deputy Executive Director, Simmons served as District Engineer for TxDOT's Fort Worth District and Deputy District Engineer for the Houston District.
After earning his Bachelor of Science degree in Civil Engineering from the University of Houston in 1981, Simmons joined TxDOT's Houston District in 1982 as a project manager in the Northwest Harris/Waller Area Office. He became a licensed professional engineer in 1986 and progressed through several positions within the Houston District. He was named deputy district engineer for the Houston District in 1993. He was named to the post of Fort Worth district engineer in June 1998. In that post he served on the Regional Transportation Council of the North Central Texas Council of Governments, working to solve transportation issues in the region.
Under his leadership, the Ft. Worth District received the Design Excellence Award for a Metropolitan District in 1998, 1999 and 2000. Simmons served on the Civil and Environmental Engineering Advisory Boards for the University of Houston and the University of Texas at Arlington. In 2005, Simmons became the first University of Houston graduate to receive both the Engineering Alumni Association's Distinguished Young Engineering Alumnus Award (1997) and the Distinguished Engineering Alumnus Award (2005).
Simmons has been married to his wife, Lisa, for over 31 years; they have 2 boys—Chris (27) and Phillip (21).