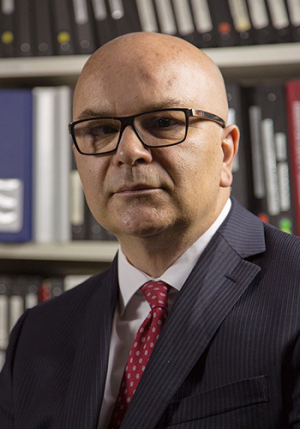 On behalf of our faculty, staff and students, I welcome you to the website for the Department of Civil and Environmental Engineering (CEE) at the University of Houston (UH). Low student-to-faculty ratios, state-of-the-art laboratories, motivated people, student chapters of professional societies, assistantship and scholarship opportunities as well as the Industrial Scholar Interns Program (ISIP) make us truly unique.
During the last 60 years, CEE has established a tradition of preparing successful engineers who have made important contributions to the development of our civil infrastructure and the built environment. Our accomplished alumni hold posts within the Texas Department of Transportation (TxDOT), the city of Houston, the U.S. Environmental Protection Agency, and countless civil and environmental firms both regionally and across the state. They contribute to society by engaging in policy making and through successful careers in academia and industry leadership.
With an eye on the future, CEE is molding curriculum and adding faculty scholars to better prepare our undergraduate and graduate students to be productive engineers and responsible citizens in the changing environment of the 21st century. Among the most critical issues we are responding to are infrastructure preservation, climate change, environmental quality, energy and natural resources protection, natural hazard mitigation and the sustainable functioning of engineered and natural systems. By addressing these issues both in and out of the classroom, we are educating engineers who possess the requisite technical skills to serve as tomorrow's leaders. This is what makes our department a place of choice for students and professionals to begin or advance their careers in civil and environmental engineering.
We offer an accredited undergraduate degree in civil engineering. In addition, there are opportunities for graduate study at the master's and Ph.D. levels in civil engineering, environmental engineering, and geosensing. Our laboratories are equipped to operate and make measurements from as small as nanos (a billionth of a meter) to as large as macros (several meters), ranging from nano particles to large scale bridge structures. Our faculty are very active in research and widely known in their area of expertise. Three faculty are members of the National Academy of Engineering, and several faculty members are leading national educational and technical committees and organizations.
We are excited about the future of our profession and the important role our department will continue to play in this rapidly advancing field. I invite you to explore our website for a closer look at our programs, research efforts, faculty, and other helpful information.
Roberto Ballarini, Ph.D., P.E., F.EMI, F.ASME, Dist.M.ASCE
Thomas and Laura Hsu Professor and Department Chair
Department of Civil and Environmental Engineering
Cullen College of Engineering
University of Houston