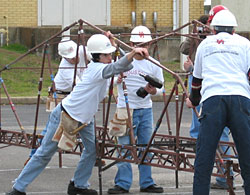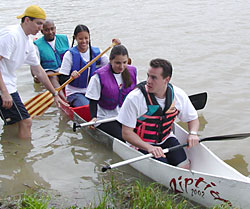 Civil engineering students are encouraged to participate in extracurricular activities offered by the University, College, and Department. Participation in such activities can greatly enhance students' overall college experience. The University provides a list of all student organizations representing various professional organizations and ethnic groups, and the College of Engineering maintains a list of student organizations specifically for engineering students.
The Department of Civil and Environmental Engineering houses a student chapter of the American Society of Civil Engineers (ASCE) and a student chapter of Chi Epsilon — the Civil Engineering Honor Society. Membership in the UH Chi Epsilon Student Chapter is by invitation only and is reserved for students who meet specific academic performance requirements, but all students at the University of Houston are eligible for membership in the UH ASCE Student Chapter. Civil engineering students are strongly encouraged to join UH ASCE.
UH ASCE undertakes various projects to further student exposure to the civil engineering profession. Guest speakers representing different aspects of engineering practice are invited to give presentations at chapter meetings. The chapter also participates in regional and national conferences and assists in various volunteer efforts.
The UH ASCE student chapter also takes part in two competitions each year: the ASCE/AISC Student Steel Bridge Competition and the ASCE National Concrete Canoe Competition. In the Steel Bridge Competition, the students design and fabricate a steel bridge meeting specific geometry and loading requirements and then compete with their bridge against other universities. The bridges are judged based on construction speed, weight, aesthetics, stiffness, construction economy, structural efficiency, and overall performance.
In the ASCE National Concrete Canoe Competition, the students design and construct a concrete canoe, and then compete with their canoe against other universities. In the Concrete Canoe Competition, the students are judged based on a paper/presentation about their canoe project, the finished canoe product, and on the basis of concrete canoe races between the competing schools.